I frequently encounter leaders who simply tell their team members what to do and then expect them to do it and be happy. These aren't always older folks, either, and their comments are generally more negative than positive.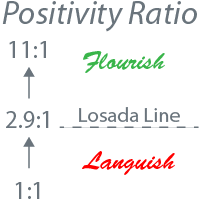 Research has shown that the ratio of your positive versus negative comments has a profound effect on your team's performance. It's called the positivity ratio. Marcial Losada and Emily Heaphy reviewed data from comments made during meetings among 60 strategic business unit management teams in a major corporation. The comments were coded as either negative or positive. The high performing teams had a positivity ratio over ten times higher than the low performing teams.
Positive psychologist Barbara Fredrickson continued the work with Dr. Losada and reviewed additional data from other sources. Their conclusion was that a ratio of positive to negative comments of 2.9 was a tipping point, above which teams would flourish. Below this they may languish. Granted this isn't the only factor in a successful team, but I believe that it is a powerful indicator of team climate and leadership style.
If you think about positive comments for a moment, I believe that you will discover how open and expansive a climate they create. When you tell someone you like what they've done, they will think they should do more of it. A positive comment is forward-moving energy.
Likewise, a negative comment stops the flow of energy and can stifle creativity, innovation, and forward movement. Negative comments also create a poor work environment, leading to high turnover and low team performance.
As you would expect, there can be too much of a good thing. Fredrickson and Losada found that when the positivity ratio began to exceed about 11 the benefits began to disintegrate. This is to be expected, of course, since appropriate negativity is sometimes required to guide your team.
Sometimes leaders have a team member who can't seem to do anything right. Take it as a challenge to catch them doing something right and provide positive praise at that moment.
An excellent exercise is to observe yourself during your work day and make a list of tick marks for positive and negative comments you make. This will also help you become more mindful.
When you are in meetings observe people's reactions when positive and negative comments are made. Observe how the dynamics of the group change with positive and negative comments. All of these tools will help you become more mindful, and as a result a better leader.
Concepts:
Observe your comments each day. Keep a small notebook or piece of paper with you and make a small tick mark when you find yourself making a positive or negative comment
Observe your team member's reactions to positive and negative comments
Observe your team dynamics when positive and negative comments are made
Keywords: leadership, positive psychology, mindfulness, Losada line, positivity ratio
References:
Cameron, K., Mora, C., Leutscher, T., & Calarco, M. (2011). Effects of positive practices on organizational effectiveness. The Journal of Applied Behavioral Science, 47(3), 266-308.
Fredrickson, B. L., & Losada, M. F. (2005). Positive Affect and the Complex Dynamics of Human Flourishing. American Psychologist, 60(7), 678–686.
Losada, M. (1999). The complex dynamics of high performance teams. Mathematical and Computer Modelling, 30(9), 179-192.
Losada, M., & Heaphy, E. (2004). The role of positivity and connectivity in the performance of business teams. American Behavioral Scientist, 47(6), 740-765.
Share on Facebook