As I write this the SpaceX (Space Exploration Technologies) Falcon 9 rocket has blasted into space, carrying the Dragon spacecraft toward the International Space Station (ISS) with a load of cargo. This milestone marks a new era in private as opposed to government space flight. While a significant portion of the program funding comes from NASA and therefore could be considered government funded, two important points would be missed if we apply such a broad brush.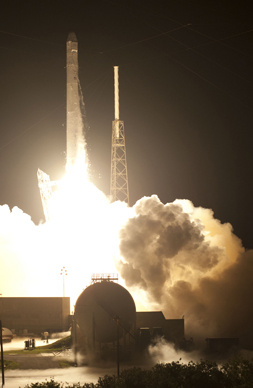 As a leader our ego sometimes gets the better of us. We begin to believe that we and our team can deliver new products or services without the help of others. Such an attitude frequently ends in failure and a veritable crawl back to those who offered help in the first place.
The collaboration of SpaceX with NASA has been shown to provide tangible benefits in terms of development time and cost. While SpaceX has taken a fresh approach to rocket and spacecraft design they have hired and collaborated with NASA engineers to design and produce highly reliable and much lower cost equipment. This collaboration has created the best of two worlds—the fresh, pristine design team and the legacy team learning from the vast knowledge of successful and failed missions.
In order to make this collaboration work the SpaceX management and design team had to set their ego aside and embrace the NASA voice of wisdom. My work with clients has revealed many a time when individuals feel they can go it alone to achieve their goals. Sometimes this is successful, sometimes not. I find it helpful to strike a balance between receiving and utilizing sage advice versus allowing your team to become bogged down with too many opinions.
I believe the second lesson here is one of minimizing bureaucracy. In general, as organizations mature they continually learn from mistakes and implement a multiplicity of checks and balances. At some point the organization becomes overly cautious and new, more nimble competitors swoop in to take market share with clever innovations.
As you observe this taking place in your organization you have a couple of options: either allow the bureaucracy to slowly build and then destroy it and build anew or continually hack away at the bureaucracy and agree to take on a measured amount of risk.
So when you find yourself turning down offers of help ask yourself if your ego is popping up. Continually assess your processes to ensure you have not become too bureaucratic. After all, this is rocket science and you want to do the best you can.
Concepts:
Allow your ego to step aside and ask yourself where the help of others might improve your team's performance
Take a fresh look, from the ground up, what business processes are absolutely necessary for your team to meet its goals
Keywords: leadership, ego, bureaucracy
Share on Facebook