I've gotten a few questions over the week on last week's blog post and how to bring traumatic issues to closure and move forward. As I was driving one afternoon I began to imagine myself as a plant manager for a Japanese owned factory in China. Some of these factories have been shuttered due to the protests over the Diaoyudao islands in the East China Sea.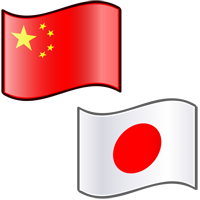 The relationship between Japan and China has many dark moments. Most recently, between 1931 and 1945 Japan carried out barbarous attacks in China. While one could argue that several generations have passed since then, the trauma and losses are not easily forgotten.
I drafted a statement and have worked with Nancy Wiser of Wiser Strategies who advises clients on how to handle crises, to craft a message that would help in such a time of crisis. Here is the statement I would make…
"We understand the concern the citizens of China have over the islands between Japan and China and we understand the history between our two countries. We regret what our ancestors have done in China and unfortunately there is nothing that can be done about the past except to acknowledge it and express our regret for it.
"Beyond that, there is nothing you can do about that, there is nothing I can do about it. We can only move forward.
"We respect all of you as citizens of China and citizens of the world. We would like to continue to work with you. We would like to move forward. We would like to put the past behind us.
"You and I cannot control what our governments do. While we can vote and express ourselves peacefully in the streets as you have done, we cannot absolutely control our governments.
"I would like us to focus on moving forward. What can we do in this city today, at this factory to move forward? You can make a choice, we in our company can make a choice. Do you wish to prosper together? We are in business together. We have a factory here and would like for all of us to prosper.
"Every day that we are closed you lose money and we lose money. If you would like to work together to move forward, to create jobs, to help build a lifestyle that you would like and that we would like, then let us figure out how to work together peacefully.
"In this moment the choice is yours. Again, we respect each and every one of you as citizens of the world. We ask that you come together with us to build a prosperous business. The choice is yours and we sincerely hope that you will choose to move forward with us. Thank you."
Keywords: leadership, trauma, grief, protests, riots, Senkaku islands, Diaoyudao islands
Share on Facebook