The removal of Mohamed Morsi as Egypt's President is a poignant reminder of the difficulty in satisfying the myriad demands of disparate segments of a society or organization. While Mr. Morsi was a democratically elected leader of a country, his failure can provide many lessons for those of us who work in business and non-profit organizations.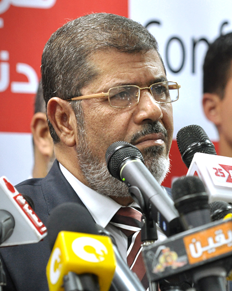 In a nutshell, Mr. Morsi and his Muslim Brotherhood party put personal agendas before the common goal of repairing and building a flourishing Egyptian government and society. He failed to rebuild the Egyptian infrastructure, leaving the economy struggling with high prices for food, gasoline, and other commodities. He and others in his party grabbed power by ramming an unpopular religiously tainted constitution down the throat of the Egyptian people and appointing Islamist officials to as many posts as possible.
Eventually the Egyptian people and military had enough and took to the streets and once again violence has ensued. Let's take a look at what lessons we can glean from this experience to help us lead our organizations.
In my experience, the best leaders put the organization first and set aside their egos and personal agendas. Jim collins does an excellent job elaborating on this in his well-researched book Good to Great. In his words, a Level 5 leader "Builds enduring greatness through a paradoxical blend of personal humility and professional will." You could begin by keeping a journal of your daily activities and noting which activities are moving you closer to your team and organizational goals, and which activities are moving you toward personal goals. You may also find that some activities are taking you nowhere, which would be helpful to know.
The second lesson we can find is how important it is to provide an adequate infrastructure so that a team may flourish and excel—to use their talent to its fullest extent. The Egyptian economy is in shambles, which cripples all businesses from tourism to technology. Are you providing the necessary equipment and financial resources for your team? Have you asked what they need lately?
Finally, pay attention to all of the groups within your organization, whether these be types of workers, individuals at all levels in the organization, all facets of the organization such as marketing, development, production, or ethnic and gender groups. Each group will bring a somewhat unique perspective to your business and may provide a profound insight that propels you forward. One of the mantras I continue to recite is "Respect Everyone." If we genuinely come from this attitude our team members will see it for what it is—a genuine interest and concern for each individual and group.
Bringing groups together which have widely divergent views and interests is difficult and requires a skilled leader. The key point is to continue focusing on the goals and vision of the team and organization. Use these as the focal point instead of the differences in views. Ask how the different views can help achieve the goal, thus building synergy to create exceptional solutions to problems.
In summary, I believe the lessons from the failure of Mr. Morsi and the Muslim Brotherhood party are:
Set your personal agenda aside and focus on the greater goals of the organization and your team,
Provide an adequate infrastructure for your team so that they may flourish and utilize their talents to their fullest extent, and
Remain attentive to all groups within your organization.
Keywords: leadership development, leadership lessons, Egypt, Morsi, Muslim Brotherhood
References
Al Jazeera. (2013, July 3) Profile: Mohamed Morsi. Al Jazeera. Retrieved July 8, 2013 from http://www.aljazeera.com/news/middleeast/2013/07/20137314127329966.html
Collins, J. C. (2001). Good to great: Why some companies make the leap. and others don't. New York: Collins.
Daragahi, B. & Saleh, H. (2013, July 5). Egypt: The second revolution. Financial Times. Retrieved July 8, 2013 from http://www.ft.com/intl/cms/s/0/e341452a-e574-11e2-ad1a-00144feabdc0.html#axzz2YSXEDcSR
Khalaf, R. (2013, July 4). Morsi's downfall will entrench Brotherhood's sense of victimhood. Financial Times. Retrieved July 8, 2013 from http://www.ft.com/intl/cms/s/0/c14592c0-e4be-11e2-875b-00144feabdc0.html#axzz2YSXEDcSR
Share on Facebook