Many Americans are weary of the partisan politics and unwillingness for each side to work together to solve critical problems in the United States. This week I'd like to highlight the value of collaboration with a project in Kentucky and challenge you to look for ways you can collaborate that will create innovative projects that you might not otherwise embark upon.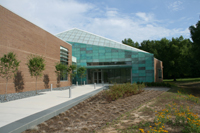 Lexington and Louisville are the largest cities in Kentucky and in many ways have been bitter rivals, whether it is basketball, business, or horses. However, last year the mayors of Lexington and Louisville, Jim Gray and Greg Fischer, developed an outline for a joint economic development effort, called Bluegrass Economic Advancement Movement (BEAM). This endeavor is meant to put a spotlight on the corridor between Lexington and Louisville as a center for advanced manufacturing—the adoption of cutting edge manufacturing processes to produce innovative or technologically complex products.
Putting this focus on the region, this collaboration, will spark worldwide economic development interest in the area. It will also create a culture that will promote education and a strong work ethic as well as attract and retain top talent. For an example of how this might play out we can look at the North Carolina Research Triangle area. In the mid-1950s North Carolina was home to furniture manufacturing, textiles, and tobacco production. Concerned about the loss of bright and talented young people to other areas, a few visionary and influential individuals in the state gathered and began to work on the concept of a research park in the Chapel Hill, Durham, Raleigh region. As they say, the rest is history. Research Triangle Park (RTP), a 7,000 acre region nestled in the center of those cities, now employs over 40,000 people.
My challenge to you is to look beyond your daily span of activities. Are there groups within your organization from whom you have shied away from who could provide a synergy with which you can create new products, distribution channels, marketing and sales efforts, or new target markets? Are there other organizations you could partner with to create new offerings or open up new channels or geographic regions?
Collaboration is key. As you harness the power of more individuals working toward a common goal you can build something much greater than you would have been able to build on your own and all will benefit. Those unwilling to collaborate are looking out for their own self-interests and may one day find themselves stranded on an island.
Concepts:
Look for groups within or outside your organization with whom you can partner with to create new products, offerings, distribution channels, target markets, etc.
Develop a compelling vision and goals for the outcome of this effort
Work together to achieve the goals, taking the temperature of each party along the way
Keywords: leadership, collaboration
References:
(2012, Summer). First Person: Lexington and Louisville Mayors Form a Strategic Economic Development Partnership. Area Development. Retrieved from http://www.areadevelopment.com/stateResources/kentucky/Lexington-Louisville-KY-economic-development-cooperation-449.shtml
Link, A. N., & Scott, J. T. (2003). The growth of Research Triangle Park. Small Business Economics, 20(2), 167-175.
Share on Facebook