The state of Michigan, long a manufacturing bastion of the United States, was on the skids in the heart of the recent recession. Unlikely gubernatorial candidate and self-proclaimed nerd Rick Snyder was swept into office on the heels of the recession. Willing to press forward and sometimes take an unpopular stand, Governor Snyder is leading the way to a better future. We can learn many lessons from him.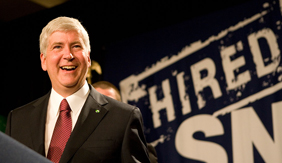 The first lesson is courage. Governor Snyder has eschewed conventional political wisdom and taken a firm stand on issues such as budget cuts and tax reductions. He has been able to improve the business climate by changing the business tax to a flat 6%. While the budget cuts have been painful for many and have cost a significant amount in political capital, Governor Snyder continues to press forward.
The second lesson we can learn is to take a holistic view. Creating a favorable business climate with low and simple taxation is simply one step along the journey. Businesses require an educated, talented workforce. Governor Snyder noticed the mismatch in number of students graduating with technical degrees and workforce requirements, and then promoted a program to retrain workers in areas of shortfall. Similarly, people want to live and work in a desirable living environment. And so, two of the points on the Reinventing Michigan plan are restoring Michigan cities and protecting the environment.
Finally, we can learn from the simple, clear way that the Governor communicates. In a throwback to President Ronald Reagan, he boils the issues down to a few. His card for Reinventing Michigan is a case in point. The points begin with "Create more and better jobs," and continue from there. He doesn't shy away from his scorecard, either. He adopted the use of a simple dashboard in order immediately determine the progress or lack thereof.
Not without his detractors, the governor is facing a second recall campaign after the first one withered on the vine, unable to gain the required votes. Despite the best of communication and rationale, none of us want to have to give up any pay, perks, or educational funds.
Some wonder if Governor Snyder deserves the credit for this renaissance. Sure, the global economy has improved and he's enjoyed the bailouts for the auto companies, but when I talk with business owners in the state they tell me they believe he's authentic in truly wanting to turn the state around. So far he's made great strides.
Concepts:
Summon the courage necessary to move your initiative forward
Take a holistic view
Communicate simply and clearly
Keywords: leadership, communication, holistic view, courage
Share on Facebook