Fred Smith, Chairman and CEO of FedEx Corporation, has recently been making the rounds promoting his vision of all electric and hybrid electric vehicles in addition to the promotion of favorable tax and regulation codes, training, education, and free trade. Smith has always been a visionary, from his days at Yale writing a business proposal to deliver packages quickly to his current political activity promoting positive change to help the US economy and his company.
While other leaders sit back and point fingers or complain about problems, Fred Smith takes the time to discern the issues, dig deep into the heart of the matter, formulate a strategy, and then promote it both internally and externally. His energy is palpable. Upon hearing and reading his words I feel a profound energy moving all of us forward.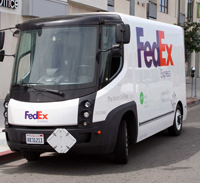 Under his leadership FedEx has recently pioneered the first commercial hybrid delivery trucks, tested fuel cell delivery vehicles, purchased lower fuel consuming airplanes, and set aggressive fuel efficiency targets. Such visionary leadership has grown the company from zero to almost $40B in 40 years.
As I have mentioned before, vision is one of the components of charismatic leadership. Research has also shown the value of vision in organizational growth.
So this begs the question regarding the vision for your team. If you have a vision, how was it crafted? Did the team provide input? Your superiors? Creating a vision does not have to be a complicated process.
My view is that vision work involves three steps: discernment, crystallization, and institutionalization.
Discerning a compelling vision for your team requires input from many sources, including team members, customers, industry analysts, and superiors. Gather as much information as possible regarding your field and begin working with core team members, if not all of them.
As you sift through all of your data look for themes and trends. Look for what is feasible within the amount of risk your organization is willing to take. Prepare several alternatives and see how they read with team members as well as customers. Once you find the most motivating creation, put a stake in the ground with your proclamation. Be confident in this vision.
Once you have solidified the vision communicate it widely and build your teamwork around the vision. Make the vision a part of your institution. Create narratives and stories around it, for it can truly become the key to your success.
Concepts:
Crafting a vision involves three steps: discernment, crystallization, and institutionalization
What is the vision for your team?
How has the vision for your team positively or negatively impacted their performance?
How can you make your vision more compelling and motivational?
Keywords: leadership, vision, charismatic leadership
References:
Bass, B. M. (1990). From transactional to transformational leadership: Learning to share the vision. Organizational Dynamics, 18(3), 19–31.
Baum, J. R., Locke, E. A., & Kirkpatrick, S. A. (1998). A longitudinal study of the relation of vision and vision communication to venture growth in entrepreneurial firms. Journal of Applied Psychology, 83(1), 43–54.
Bennis, W. G., & Biedermann, P. W. (1997). Organizing Genius: The Secrets of Creative Collaboration. Perseus Books.
Dionne, S. D., Yammarino, F. J., Atwater, L. E., & Spangler, W. D. (2004). Transformational leadership and team performance. Journal of Organizational Change Management, 17(2), 177-193.
Kirkpatrick, S. A., & Locke, E. A. (1996). Direct and indirect effects of three core charismatic leadership components on performance and attitudes. Journal of Applied Psychology, 81(1), 36–51.
Larwood, L., Falbe, C. M., Kriger, M. P., & Miesing, P. (1995). Structure and meaning of organizational vision. Academy of Management Journal, 38, 740-769.
Westley, F. R., & Mintzberg, H. (1988). Profiles of strategic vision: Levesque and Iacocca. In J. A. Conger & R. N. Kanungo (Eds.), Charismatic leadership: The elusive factor in organizational effectiveness (pp. 161-212). San Francisco: Jossey-Bass.
Share on Facebook