Rita Hayan-Feruz Kleinstein, or just "Rita" as she is affectionately known, is considered by most people to be the top female singer in Israel today. Turns out she also happens to be extremely popular in the land of her country's archenemy—Iran. Jewish Rita was born and raised in Iran until the age of eight when she immigrated to Israel. Throughout her life she cherished the Persian folk songs passed on to her by her mother. Last year she chose to modernize and record them, producing her latest album, My Joys. Since Western music is banned in Iran, Iranians have purchased bootleg copies on the black market or discretely downloaded digital versions. And so Rita is building an enthusiastic bond between the people in the land of her birth and the land of her heritage.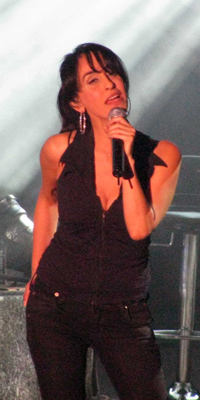 Such bonds can help your team perform better as well as maintain its viability over a long period of time. Research has shown that group performance is correlated with the individual team member's ability to work together toward a common goal. This is known as task cohesion. Similarly, when team members get along well socially, i.e. have high social cohesion they are able to function well for an extended period of time.
For example, you might have a team in which the members don't really enjoy each other's company but all are motivated to complete the goal. They will likely perform well and finish their task. However, they may choose to switch teams at the end of the project phase or, in extreme cases where the team degenerates into dysfunction the team may dissolve.
So-called "ropes" courses are meant to be physically challenging exercises where individuals discover they can complete a task only by working together. Research has shown that these courses increase cohesion within groups for a time but that follow-up sessions are required to continue the momentum. This is analogous to research on virtual teams. The virtual team research shows the importance of face-to-face meetings to build both social and task cohesion.
As those of you who have attended one of my training sessions know, I am a big fan of experiential learning. To be effective, experiential learning must incorporate two sets of polarities: abstract concepts vs. experiences and action vs. reflection.
The experiences, like the ropes courses imbed the knowledge or learning in our bodies. Explaining the concept or theory imbeds the knowledge in our heads and helps us relate the new information to existing knowledge, or schema as it is called in the psychology world. Applying the new information via multiple channels also helps reinforce the message. Incorporating reflective individual questions and discussion helps reinforce the actions participants take in the exercises.
One of the classic experiments involving group cohesion is the Robbers Cave study which was carried out in 1954. This study of two groups of 11 year-old boys illustrated the value of task cohesion and the resulting social bonds it could build. The study was carried out in three phases. In the first, the boys were divided into two groups and over a week's time were allowed to develop social bonds and group norms. During the second week the two groups competed against each other and rivalries developed. The third week researchers introduced goals which required resources and effort beyond the capability of one group. As the two groups joined forces toward common goals they were able to achieve them and social bonds resulted.
Returning to Rita, I am delighted with her energy and enthusiasm toward building a bond between the Israeli and Iranian people. Music is frequently a common denominator across cultures. I have traveled the world and marveled at the universality of music, from classical to pop. My hope is that her efforts spawn similar experiences, building bonds across all cultures across the globe.
Concepts:
Create and communicate a common goal
Build social bonds between team members for long-term team viability
Generate and treasure common experiences
Keywords: leadership, cohesion, ropes course, adventure course, challenge course, adventure programming, outdoor management training, OMT, outdoor experiential training, outdoor challenge
courses, adventure education, virtual teams
References:
Birx, E., LaSala, K. B., & Wagstaff, M. (2011). Evaluation of a team-building retreat to promote nursing faculty cohesion and job satisfaction. Journal of Professional Nursing, 27(3), 174-178.
Carless, S. A., & De Paola, C. (2000). The measurement of cohesion in work teams. Small Group Research, 31(1), 71-88.
Chang, A., & Bordia, P. (2001). A multidimensional approach to the group cohesion-group performance relationship. Small Group Research, 32(4), 379-405.
Gillis, L. H., & Speelman, E. (2008). Are challenge (ropes) courses an effective tool? A meta-analysis. Journal of Experiential Education, 31(2), 111-135.
Judge, W. (2005). Adventures in creating an outdoor leadership challenge course for an EMBA program. Journal of Management Education, 29(2), 284-300.
Kass, D., & Grandzol, C. (2011). Learning to lead at 5,267 feet: An empirical study of outdoor management training and MBA students leadership development. Journal of Leadership Education, 10(1), 41-62.
Kolb, A. Y., & Kolb, D. A. (2005). Learning styles and learning spaces: Enhancing experiential learning in higher education. Academy of Management Learning & Education, 4(2), 193-212.
Sherif, M., Harvey, O. J., White, B. J., Hood, W. R., & Sherif, C. W. (1961). The Robbers Cave experiment: Intergroup conflict and cooperation. Norman, OK: Institute of Group Relations, University of Oklahoma, reprinted by Wesleyan University Press, 1988.
Shooter, W. (2010). A closer look at the "inner workings" of adventure education: Building evidence-based practices. Journal of Experiential Education, 32(3), 290-294.
Zull, J. E. (2002). The art of changing the brain: Enriching teaching by exploring the biology of learning. Sterling, VA: Stylus.
Share on Facebook