This blog post has been difficult for me to write given the despicable nature of the crimes committed by Gerald "Jerry" Sandusky at Pennsylvania State University. Most of you know that he was convicted on June 22, 2012 on 45 counts of criminal charges for his sexual exploitation of young men at Penn State.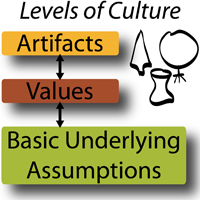 I feel there are valuable culture lessons for all leaders in the sordid action by Penn State administrators following each exposure of Sandusky's activities. As the Freeh special investigation report states, "One of the most challenging of the tasks confronting the Penn State community is transforming the culture that permitted Sandusky's behavior, as illustrated throughout this report, and which directly contributed to the failure of Penn State's most powerful leaders to adequately report and respond to the actions of a serial sexual predator."
The most poignant example of the role the Penn State culture played in the continued cover-up of Sandusky's activities is that of two janitors who had witnessed Sandusky engaged in an act with a victim. They both felt that they would be fired if they reported this activity given the untouchable status of the Penn State football program. Assumptions such as this are at the core of organizational culture.
I've been working with several organizations on their culture recently and find the model developed by Edgar Schein to be very useful. This model looks at organizational cultures from three levels: artifacts, values, and basic underlying assumptions. In the case of the Penn State example I highlighted above, we can easily identify the elements. The janitors assumed they would be fired because the university valued the football program above all else, stating, "football runs this University." Artifacts supporting this were previous incidents where football players were treated leniently when involved in altercations which would have otherwise suspended them from the football program.
So I think this is an excellent example to learn from so that you can become more aware of the culture you have created for your team. If you wish to assess your team's culture you can begin by asking the values they perceive and why they have that perception. Sometimes it is difficult to get a true reading from team members and it takes an independent third party for this analysis. An even more difficult task may be to pry out the underlying assumptions related to the values. One of the questions I like in order to determine assumptions is, "What are some actions which may affect your employment here over the short or long term?"
Cultural values are frequently communicated through stories of past actions and experiences. These stories are the artifacts present in all organizations. If you choose to change your culture, behave consistently with the new culture and continually communicate events, experiences, and behaviors by team members exemplifying the new values. These new artifacts will go a long way toward spotlighting the new direction you would like to head.
Concepts:
Look at the organizational artifacts you create each and every day
Find out from your team members the values they perceive
Dig deep to determine the underlying assumptions your team members believe
Create and communicate new artifacts to promote the culture changes you desire
Keywords: leadership, culture
References:
Denison, D. R. (2000). Organizational culture: Can it be a key lever for driving organizational change? In S. Cartwright & C. Cooper (Eds.), The Handbook of Organizational Culture. London: John Wiley & Sons.
Freeh Sporkin & Sullivan, LLP. (2012). Report of the special investigative counsel regarding the actions of the Pennsylvania State University related to the child sexual abuse committed by Gerald A. Sandusky. Retrieved from
http://news.bbc.co.uk/2/shared/bsp/hi/pdfs/12_07_12_penn_state_report.pdf
Hofstede, G. (1983). The Cultural Relativity of Organizational Practices and Theories. Journal of International Business Studies, 14(2), 75–89.
Javidan, M., Dorfman, P. W., Luque, M. S., & House, R. J. (2006). In the Eye of the Beholder: Cross Cultural Lessons in Leadership from Project GLOBE. The Academy of Management Perspectives, 20(1), 67–90.
Quinn, R. E. (1984). Applying the competing values approach to leadership: Toward an integrative framework. In J. G. Hunt, D. M. Hosking, C. A. Schriesheim, & R. Stewart (Eds.), Leaders and managers: International perspectives on managerial behavior and leadership (pp. 10–27). New York: Pergamon Press.
Schein, E. H. (1990). Organizational culture. American Psychologist, 45(2), 109–119.
Share on Facebook